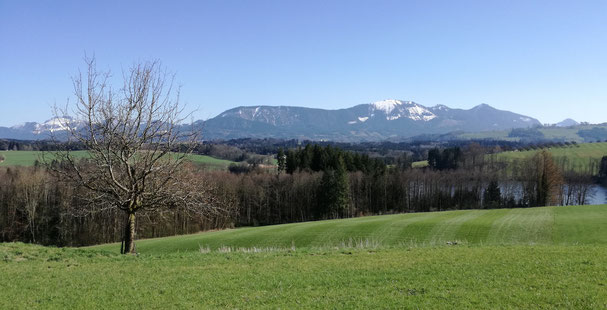 After almost three years in Rosenheim there are still many places left to explore. The other day I went one of the many beautiful lakes in the vicinity. While I'd been there before with a friend, we hadn't walked all around it at the time.
It was a sunny, warm day and as part of my mission to get in 10,000 steps a day (which lasted 15 glorious days...), off I went. After about 30 minutes I reached the other side of the lake. Looking back across, I couldn't believe just how far away my starting point looked from here! Here's the lesson: Had I looked across before setting off, there is a high probability I wouldn't have bothered. It looked way too far (which also shows my lack of spatial awareness, I suppose). On this occasion it would have meant missing out on beautiful scenery, achieving my 10,000 steps and the satisfaction of having made it around the whole lake. Admittedly, there wasn't much to lose. But how often does this happen when more is at stake?
Do you sometimes give up before even starting? Do you anticipate obstacles that make you feel the journey ahead is impossible to conquer or too difficult? Maybe you cannot see how you can ever reach your goal, as the way resembles more of a windy road going up and down than a straight, well built motorway? You might not even be able to look around the next corner yet.
I'm sure you've heard that quote how the majority of our problems only exit in our minds and never actually occur. With all the research in the world, we are still unable to predict the future.
Don't get me wrong: I am all for setting attainable goals and I don't advocate going after just anything on a whim either. But how about next time, you are about to discard a pan, take a step back and examine your thinking. Can you be sure that what you regard as insurmountable obstacles are real? To what extent is fear of failure the motivator NOT to do something? Are you actually standing in your own way by being overly cautious?
By the way, this is how the walk continued:
I eventually got to a forest where the path around the lake was no longer signposted. I was torn between turning around and following my instinct. Which nicely leads to another important reminder. Namely that the many decisions can be reversed in some way or at the very least you can always make amends and change course.
So, go ahead, get started and don't forget to take some time once in a while to look back and appreciate how far you've come already. Even if you haven't yet achieved your goal. Celebrate your milestones!
And above all: have fun!
P.S.: Thanks to googlemaps I managed to get back to my car again ;-)