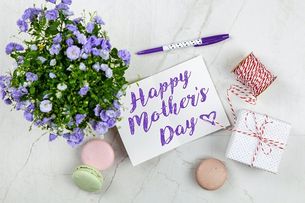 My mum passed away in 2017. Mother's Day was never a big thing in my family. My mum would always say she didn't want special treatment on just one day of the year but would like to feel appreciated throughout. Of course, I've always been aware of the mass advertising surrounding Mother's Day but since her death, it has taken on a different meaning.
There are of course many reasons why Mother's Day can be a challenging day: women who lost their children, children who lost their mothers, people with difficult or no relationships with their mothers, women who are yearning to become mothers, etc. And I'll be honest, I didn't think about any of that before I became a member of one of these groups.
I've said it before and it still stands: everyone grieves in their own personal way. So, while every Mother's Day reminder also reminds me that my Mum is dead, there are plenty of other things that act as daily reminders, too. Almost three years on, I still think of her every single day. So, for me personally, Mother's Day isn't a "special" day of grief in my life. But I appreciate that this is different for other people.
Do you know the song The End of the World? It starts with this:
"I wake up in the morning and I wonder
Why everything's the same as it was
I can't understand, no I can't understand
How life goes on the way it does"
I felt that deeply! But the world does go on around us. And people won't necessarily know how we feel in this world where everything stays the same, when ours has crumbled (for whatever reason). We cannot and shouldn't expect other people to be able to read our mind. If Mother's Day triggers you in some way, it is for you to deal with and talk about and reach out for help or simply sit with your feelings. It's not for the world to heal you. Healing is our job. 

I strongly feel, that first and foremost it is my responsibility to ask for the help and support that I need. We can wish and hope for more empathy and for people to enquire about how we are doing, but what is wrong with bringing it up ourselves? Just like I didn't think of all the people who might find Mother's Day challenging before, why would I assume others will automatically think to check in with me?
Coaching is a lot of about identifying our objectives. And as we all know SMART objectives need to be within OUR powers to achieve. We can wish for other people to behave in certain ways – but that will always be outside our control. And yes, even when we do verbalize what we are hoping to receive from somebody else, there is no guarantee to get it either. But without communicating it, those chances are even slimmer.
Just as we are on our own individual path, we need to grant others their own path, too. And the reasons for people not being able to be there for you the way you'd like them to, is manifold. As we learn to accept our own feelings and thoughts without judgement, this is something we should also offer to others.